Free movement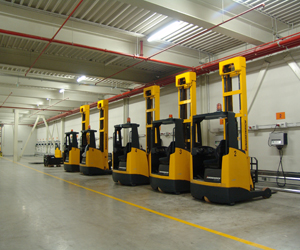 In a Free Movement facility the trucks are free to roam in any direction and path in wide aisles. These floors are typically found in factories, retail outlets and parts of distribution centers. Generally, floor requirements on these areas are less strict than in Defined Movement facilities that implement Very Narrow Aisles (VNA) because loads are carried at a lower level, racking is not very high and the aisles are wider. However, it is still necessary to provide a smooth ride for the trucks and safe conditions for the operators in order to achieve maximum efficiency. This is not an easy task and specific measures need to be taken during the construction phase to make sure the tolerances are within limits.
Eurolit is able to offer expert advice on designing and implementation of such measures, as well as materials and equipment advise to ensure that the specification is met.
It is worth noting that if the specification is not met, very little can be done to correct it, as the area affected will be so large and the added cost and time will result in an unrealistic approach. Hence it is very important that all necessary actions are taken to ensure that the contractor can deliver what was promised..
...ensuring the success of the floor construction